Hollywood celebrities digs Love Quotes Scarves. Lindsay Lohan, Jessica Alba, Cameron Diaz, Nicole Richie, Melanie Brown, Lauren Conrad, Mandy Moore, Hilary Duff, Christina Aguilera, Ashlee Simpson, Sienna Miller, Nicky Hilton, Paris Hilton to name a
few
.
So soft and light, you will want to wear your Italian linen Love Quotes scarves with every outfit – no worries, they come in every color from Coco Shell to Cherry Pie!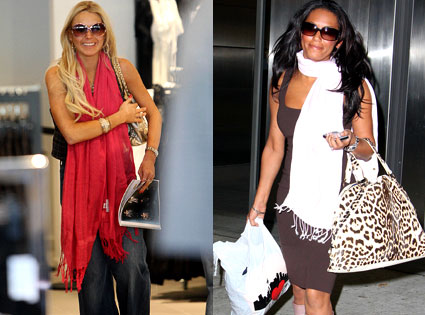 Lindsay Lohan and Melanie Brown wearing Love Quotes Scarves.
And to compliment your inner beauty, 10% of the proceeds are donated to international children's charities. Each Love Quotes scarf is accompanied by an inspirational quote... in case you didn't feel amazing enough already.
Available at pinkmascara.com
Related Posts:
My Arabic Scarf
Shemagh or Keffiyeh?
David Beckham wearing Shemagh / Keffiyeh
British Asian Street Fashion - Women